Overview of the features
HAM Office EASY is a professional program for entering and evaluating logbook data . It is based on the experience of years of logbook programming and many hints, requests and criticisms from radio amateurs.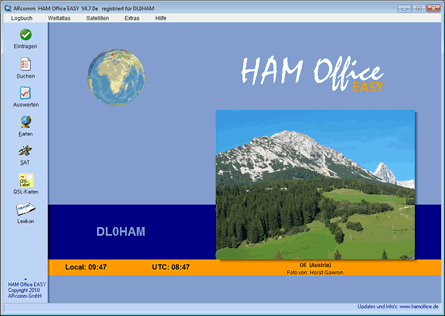 HAM Office EASY basically offers all the important functions required for a thorough and appealing input of QSO Data and logbook evaluation are necessary.
Help functions support every single step from the first start of the program. Using the extensive import functions , HAM Office can import data from almost any logbook program.
HAM OFFICE Easy is a simplified version of HAM OFFICE
for those who
- do not need the full functionality of the standard version,
- value a very simple operation of the program
- are not yet as experienced with the computer

The following are the main features of this program:
Evaluations of the most important logbook data in list form and tables
Editing of the logbook data
Access to almost all logbook programs via import filters
Prefix cross reference that has proven itself over many years
Data export functions for export to ADIF, CSV or in text files
Printout of all important lists
Search the log according to various criteria
Zoomable world map
Different views on the map
Map with degree and locator grid, CQ and ITU zones, DXCC, country or prefix search and DXCC information
Callsign search (if the locator associated with the callsign is contained in the database, the exact location is displayed)
Satellite map
Professional label and card printing functions